Sacramento has always held a special place in my heart. In high school (and beyond) my friends used to play shows there so we'd make the trek every so often and hang out with the local kids. The punk rock scene in Sacramento was a unique one. Since there's a shortage of things to do there, the result is that everyone seems more creative as you need to make up your own fun. When you get bored you simply pump up the radio and drive through the alleys real fast, jump into the giant piles of leaves, have a drawing contest, a shotgunning contest, write stupid songs, etc.

But last night I saw a sad Sacramento.

A couple weeks ago Keith Campos was killed in a horrific manner. His friends banded together and held a benefit concert in his name with the proceeds going to BAD RAP. Carolyn and I went up to Sacramento to represent the group.

It's weird when you meet someone you've known via the internet in person for the first time. It's weirder still when you "meet them" via their wake. The faces are familiar, the names, the stories, but there's just one big absence around which everyone swirls.

In a way, it was the best show I've ever been to. A lot of the time at shows people like to stand around and look cool, but, at this show, no one bothered to pretend. Old rivalries were put aside and everyone joined together to celebrate his life. I don't think there was a single dry eye in the room (er, basement) as Keith's old band performed, one man short, and gave props to him. Keith was a strong presence who drew people together, inspired many, and was a passionate advocate for pit bulls. His friends told stories about he touched their lives and urged them to keep smiling, even when things suck.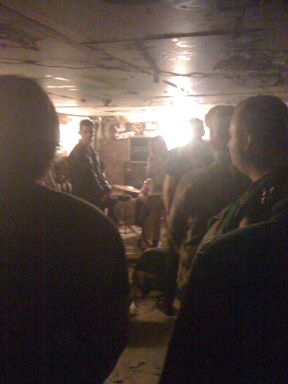 It's easy to get caught up in the day-to-day of life, but occasionally something so profound occurs that makes you stand back and reevaluate everything. This morning I awoke to a weird feeling halfway between loss and inspiration.

And I was also reminded to conserve water, for punk rock reasons.